Dental implant is a prosthetic procedure that needs surgery to perform or to issue; dental implant is divided into many parts: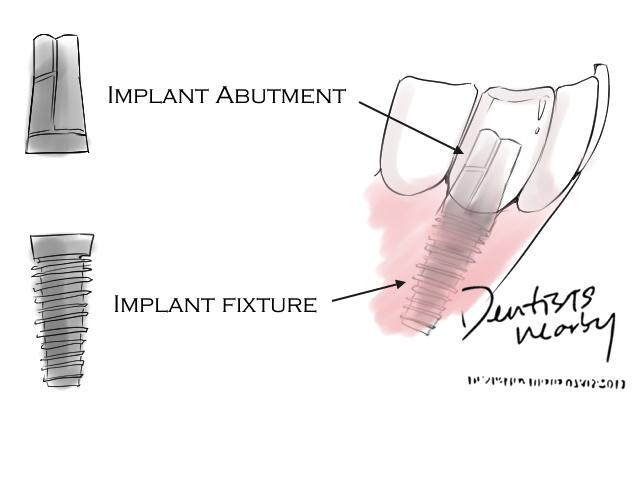 1. Fixture (root part, inside the bone)
(A) Cylindrical
Hallow basket (old version)

Solid -
- Threaded
1-Normal size implant (most common used)
2-Mini implant (small diameter implant)
3-Micro implant (short implant)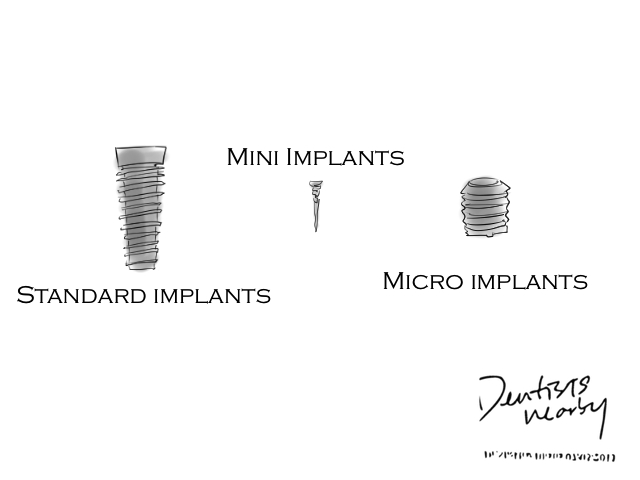 - Non-threaded

(B) Plate (special cases)
2. Abutment (connector between fixture and the prosthetic part)
3. Prosthesis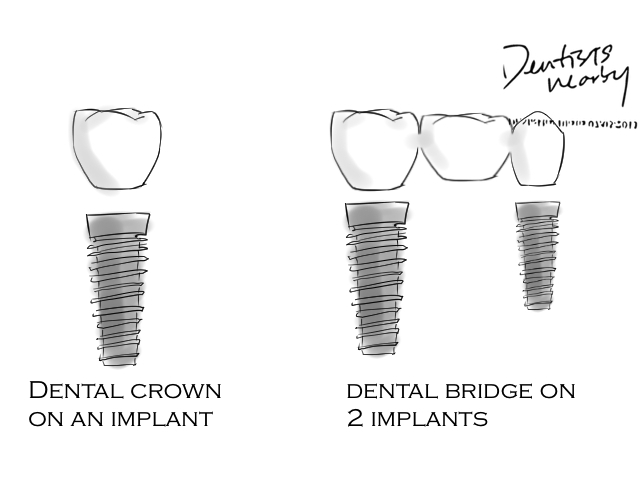 Cylindrical, solid and threaded implant (fixture):

Let's talk about the most common used type of implant (fixture) in oral implantology, which is normal size, cylindrical, solid and threaded type of implant. The design of the implant is like screw with thread, some of the designs is tapered in shape, which is mean the head is wider than the apex, or non-tapered when the walls are parallel from head to the apex or bottom. The tapered type gives more initial or primary implant stability during implant placement especially when the bone is not dense. The implant (fixture) comes with different length and diameter. The length range from 7-28mm, while the diameter range from 3.4-7 mm. Old version of the implant was pure titanium, with sooth or machined surface, now-a-days and after many research conducted, the implant surface is more rough after treated with acid or blasting. Rough surface shows more affinity for bone cells to grow on and attached than the smooth or the machined one. Bone-implant contact increase significantly with rough surface implant, in consequence decrease the healing period (Osseointegration) dramatically from 4-6 months into 6-8 weeks.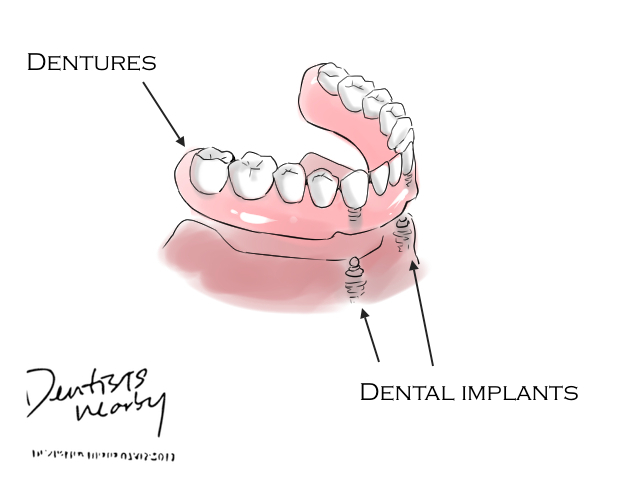 Mini, Micro and plate types of implant:

There are special cases and conditions in dental implantology deter us from going to consider the normal size implant. These conditions are bone availability, anatomical considerations, medical condition of the patient and temporization. Like in elderly complete edentulous patient and wearing loose unfitted denture, her we have to consider the medical condition of the patient for going into extensive surgery, like bone grafting or bone expansion. In such special cases with light bit force in the elderly patient, mini implant can be considered. Micro implant is the short implant (less than 6 mm length), this type of implant indicated when we have deficient in bone height, that prevent us from placing normal length of implant (10 mm implant), this short implant is also placed under special condition, as short implant provide less implant stability and force distribution.

Selection of the implant or fixture varies from case to case:
This will depend mainly on:
1-Bone availability
2-Bone density
3-Implant site
This article was prepared and contributed to Dentistsnearby.com by,
Dr.Mohammed J. Mohammed. 
BDS, MSc (Implantology), FADIA, FICOI. Lecturer from Mahsa University.