The Picture shows a Hawley's retainer.
Retainers and orthodontic relapse
What are retainers?
A retainer is an appliance (something your orthodontic have fabricated for you) to be worn after you finished your orthodontic fixed appliance (braces) treatment. They are used to prevent relapse. Relapse is is officially defined as the return, following correction, of the features of the original malocclusion. In simpler words, relapse is when your aligned teeth goes back to your original state before braces.
Your dentist will have the option of prescribing two types of retainers for you, mainly:
- Removable retainer - an appliance where you can remove it during eating and drinking. The most common type of removable retainer is the "Hawley's" (with metal wires) or the "Vacuum-formed" (Clear type without metal wires). The Hawley's retainer is depicted in the pictures in this article.
- Fixed retainer - permanently bonded to your teeth so you dont have to remember to wear it.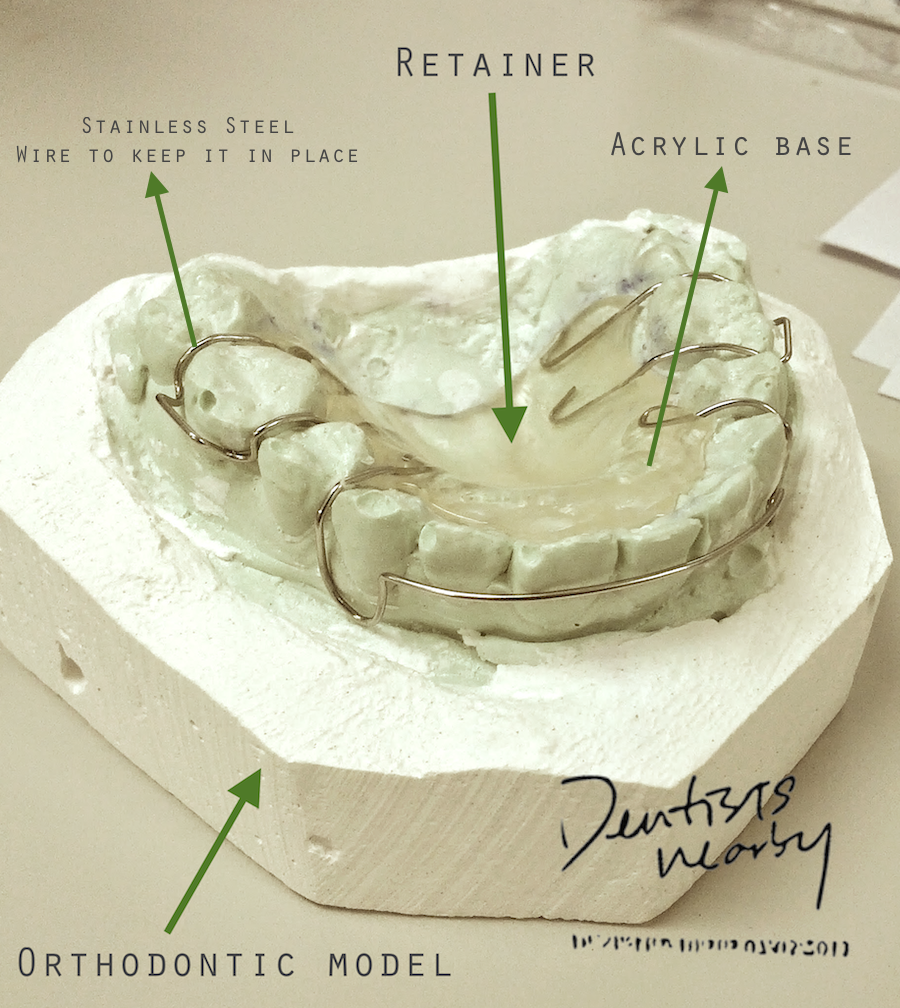 FAQs about retainers..
How often should I wear my removable retainers?
- Recent research suggests that removable retainers only need to worn at night. But wearing it during the daytime is also alright.. but always remember to remove it during eating, drinking or any activity that requires you to move your jaws. Remember, a retainer should be worn at night, EVERY NIGHT.
How long should I wear my retainers?
- After removing your braces, your retainers should be worn everyday, at night, for >2 years. Yes, it is crucial to be discipline because you have spent more than rm5k and you wouldn't want to throw that away don't you..
How do I take care of my retainers?
- Toothpaste can be used to clean your Hawley's retainer (the one with the metal wires) and for the transparent type (vacuum-formed) it has to be cleaned with a special cleaning agent that won't degrade the plastic such as Retainer Brite. If it gets too dirty, your can request for your dentist during your next check-up to clean your retainer in an ultra-sonic cleaner. DO NOT use toothpaste if you are given the "transparent type" (clear ones without metal wires) retainers.
How do retainers break?
-Your retainers are custom-made individually to fit your mouth. A retainer might break if it is forced into place by biting on it. Let's say for some reason you did not wear your retainers for a long-time and it doesn't fit anymore, you should NOT force it in and you should go and see your dentist ASAP. Also, hot water will distort your retainers, so DO NOT soak it in hot water, or leave it in your car under the hot sun.
What do I do if I lose my retainers?
- If you lose the retainer, wear the spare one if your dentist have given you one. Then contact your dentist and bring the orthodontic models back to him/her to make a new one. (A small fees will be charged of course, hence, don't lose them!)
I feel some pressure when I wear my retainers, what's going on?
- Slight pressure will be there if you forgot to wear your retainers for a day or two. But if you think the pressure is unbearable which is causing you pain, your retainers might be distorted and better go back to your dentist to have it adjusted or re-fabricated.
I was given a Fixed Retainer, how do I take care of them?
- Fixed retainers are permanently bonded to your teeth. Use a "Superfloss", "Superflosses" are available in Guardian, Watson or any other pharmacy in a box, they're usually more pricey than normal flosses. They have one end which is rigid which can be threaded through between your teeth and then you can clean it like a normal floss. The other way is to use an Interdental brush, which also can be found in any pharmacy. If you're not sure how to use them, go back to your dentist and he/she will be glad to teach you how to use it.