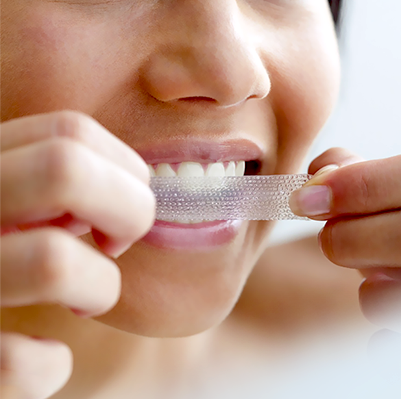 As you all know, there are various methods of whitening your teeth, ranging from professional treatment in the dental clinic, to home-remedies depicted on the Internet.
However, as dentists, we do not encourage nor recommend you to D.I.Y. at home for one simple reason: they are not proven to be safe and effective.
"Whitening" is any process that will make teeth appear whiter. This can be achieved by one of the two following principles:
A product can bleach the tooth; it actually changes the natural tooth color, bleaching products contain peroxide(s) that help remove deep (intrinsic) and surface (extrinsic) stains.
Alternatively, non-bleaching whitening products contain agents that work by physical or chemical action to help remove surface stains only.
Whitening products may be administered by dentists in the dental office, dispensed by dentists for home-use, or purchased over-the-counter (OTC); and can be categorized into two major groups:
Peroxide-containing bleaching agents; and

Whitening toothpastes (dentifrices)
Peroxide-containing bleaching agents
Carbamide peroxide, used in many bleaching products, breaks down into hydrogen peroxide and urea, with hydrogen peroxide being the active bleaching agent. A bleaching product containing 10% carbamide peroxide yields approximately 3.5% hydrogen peroxide. The most commonly observed side effects with these peroxide-based bleaching agents are tooth sensitivity and occasional irritation of soft tissues in the mouth (oral mucosa), particularly the gums. Tooth sensitivity often occurs during early stages of bleaching treatment. Tissue irritation may result from an ill-fitting tray used to contain bleaching product. Both tooth sensitivity and tissue irritation are usually temporary and stop after the treatment. On rare occasions, irreversible tooth damage has been reported. Patients should be cautioned that insufficient information is available to support unsupervised long-term and/or repeated use of bleaching products.
Today's topic will be a brief introduction to teeth whitening strips...

The first hydrogen-peroxide teeth whitening strips were introduced to the world in 2000.
The no. 1 question is: "Does It Work?"
That depends. Generally speaking, yellow teeth tend to whiten better than teeth with gray tones; teeth that are stained by medicines don't tend to lighten well. Bleaching won't work on crowns, veneers, or dental fillings; you may need to have your teeth restored by your dentist first.
What are the Side Effects?
Home whitening kits can make your teeth more sensitive. It happens when the active ingredient: hydrogen peroxide seeps through the enamel that covers your teeth and irritates the nerves inside. In most cases this feeling doesn't last. If it does, or if your gums change color, see your dentist immediately.
When Will I See Results?
You should know if it's working in about a week. Take a photo of your smile before you start using a whitening kit and another picture a week later. Compare the two; if you see a change, it's working, but make sure your goals are realistic and down to earth.
If your teeth aren't brighter after 2 weeks, call your dentist. If you're not getting good results after one box of whitening strips, you're not going to see better results after 10 boxes. You may need a stronger or alternative treatment.
What is the acceptance level of whitening strips currently? 
Whitening strips are probably the most common in-store systems used. To create a more affordable approach to whitening and simple delivery system, these strips were first introduced in 2000. These strips vary in concentration of hydrogen peroxide from 3 to 10 percent. A whitening strip is a paper-thin piece of clear plastic coated with a thin layer of hydrogen peroxide on one side. The strip is peeled away from the backing, lined up with the midline of your smile and positioned over the surface of the teeth with the gel directly in contact with each tooth. These are flexible and adapt fairly easy to the tooth surface. Systems vary on length of time and duration of treatment. It is advised to follow the manufacturer's directions.
What does the future hold for whitening?

As the demand persists, we will continue to see advancements in teeth whitening procedures, both in-office and in-store. Primary factors that will dictate and direct the focus are what everyone wants — ease of delivery, effectiveness and affordability!
What about whitening toothpastes?
There are many claims made by whitening toothpaste manufacturers, including that they contain the same ingredients used in professional whitening. Actually, these toothpastes are only able to remove some surface staining caused by foods and beverages through the action of harsh abrasive agents — not whitening agents. Whitening toothpastes that contain hydrogen peroxide usually have less than 1 percent. Additionally, these toothpastes are limited in the duration of time they are in direct contact with the surface of the teeth. Therefore, these toothpastes cannot alter the intrinsic color of the teeth. The danger is these toothpastes can actually be harmful to the enamel and exposed root surfaces by causing unnecessary wear and increasing risk of sensitivity.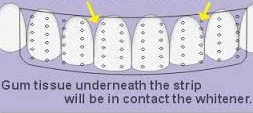 Source: http://www.ada.org/en/about-the-ada/ada-positions-policies-and-statements/tooth-whitening-safety-and-effectiveness
---
Sponsored By - Oral-B 3D WhiteStrips, Click here to find out more