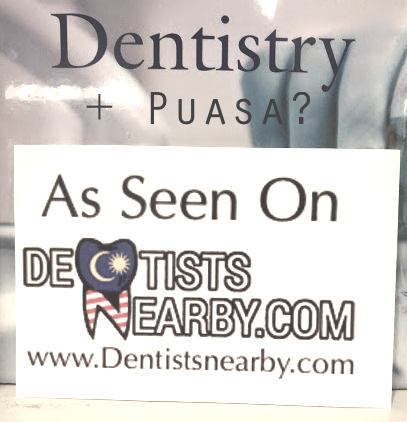 Menjelang bulan Ramadan, ada pesakit yang akan tertanya bolehkah mereka mendapat rawatan gigi ketika berpuasa? Adakah ia akan membuatkan puasa batal secara langsung? Untuk pengetahuan anda, puasa tidak akan dibatalkan selagi benda-benda yang terkumpul ketika menjalani pemeriksaan dan rawatan pergigian tidak masuk ke kerongkong mulut dengan sengaja.

Walaupun rawatan pergigian rutin seperti scaling dan tampalan dilakukan dengan alat tangan bermotor yang mengeluarkan air suling melalui hujung alat tersebut ke dalam mulut, alat penyedut ada digunakan untuk menyedut air suling and air liur yang terkumpul dalam mulut anda semasa rawatan dijalankan. Penyemburan air suling ini diperlukan supaya alat tersebut tidak menjadi panas kerana haba yang terhasil semasa operasi alat tangan bermotor boleh memudaratkan gigi anda. Selagi air suling tidak ditelan, puasa masih sah.
Selain daripada itu, doktor gigi anda akan menjelaskan bahawa prosedur-prosedur yang mungkin menyebabkan air liur tertelan dan masuk ke kerongkong mulut sebelum rawatan dijalankan.
Rawatan yang melibatkan bendalir terkumpul dalam mulut:
- Pembersihan karang gigi
- Tampalan gigi
- Cabutan gigi
- Prosedur-prosedur lain yang menggunakan alat tangan bermotor
Prosedur yang tidak melibatkan bendalir:
- Rawatan pergigian
- Pengambilan x-ray
Prosedur yang tidak perlu batalkan puasa
- Mencuci gigi
- Menampal gigi
- Sarung gigi dan jambatan gigi
- Cabutan gigi. Namun begitu, anda mungkin akan berasa sakit selepas cabutan dan perlu mengambil ubat penahan sakit. Ubat penahan sakit dalam bentuk tablet perlu diambil dengan ditelan akan membatalkan puasa anda.
- Suntikan ubat kebas dalam mulut untuk cabut gigi
- Ubat bius topikal untuk gusi
- Rawatan akar
- Membuat rawatan pergigian
- Memberus gigi, flos dan ubat kumur

Maklumat selanjutnya:
Menurut Fikah Perubatan:
Mencabut gigi, menampal gigi, mencuci gigi atau menggosok gigi dengan siwak ataupun memberus gigi tidak membatalkan puasa selagi mana tidak masuk ke dalam halkum (ditelan)
Menurut IOMS (Islamic Organization for Medical Sciences), The Akademi figh di Jeddah dan WHO, Figh As-Sunnah (Sayyid as-Sabiq), dan Fatwa from Yusuf Al-Qaradhawi with Majlis Fatwa Eropah :
- Injeksi (cucuk) melalui kulit, kedalam otot (intramuscular), sendi (intraarticular), kedalam pembuluh darah (intravenous) kecuali bahan yang dicucuk mempunyai zat tidak membatalkan puasa

- Menerima Oksigen atau gas untuk bius tidak membatalkan puasa

- Menerima semua bahan yang diserap kedalam badan melalui kulit, seperti krim sapuan, minyak dan sebagainya tidak membatalkan puasa.

- Mencuci mulut, kumur-kumur, spray mulut, dengan syarat ia tidak ditelan tidak membatalkan puasa.
Menurut Garis Panduan Berpuasa bagi pesakit, E-Fatwa.gov.my:
- Melakukan prosedure tampalan gigi, cabutan atau pembersihan gigi dan memberus gigi dengan siwak(Tooth cleanser) dengan syarat individu yang berpuasa tidak menelan apa-apa bahan semasa prodesure rawatan tersebut tidak membatalkan puasa.

- Penggunaan ubat-ubatan dalam bentuk sapuan, balutan dan plaster pada permukaan kulit tidak membatalkan puasa.
Special Acknowledgement to Aimi Athirah from International Islamic University Malaysia (IIUM) for her kind guidance on this article.
Dr Lor Yen Fang for interpreting this article from english to bahasa.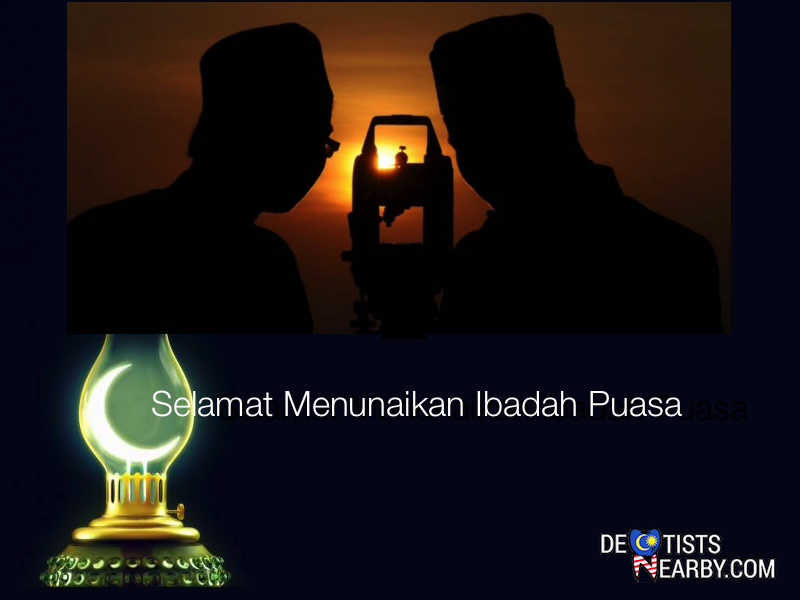 ---
Sources (Rujukan):
- Fikah Perubatan - Authors: Dr. Harmy Moh Yusoff, Ustaz Shamsul Kamal Abdullah, Dr. Rosediani Muhamad, Wan Nor Ainon Wan
- IOMS (Islamic Organization for Medical Sciences)
- The Akademi figh di Jeddah dan WHO, Figh As-Sunnah (Sayyid as-Sabiq), and Fatwa from Yusuf Al-Qaradhawi with Majlis Fatwa Eropah
- Garis Panduan Berpuasa bagi pesakit, E-Fatwa.gov.my
(http://www.e-fatwa.gov.my/sites/default/files/garis_panduan_berpuasa_bagi_pesakit_0.pdf) (date accessed: 7th July 2014)